What is The Pankaj Method®?
The Pankaj Method® is a comprehensive system of healing pain, diseases, and emotional and mental distress by correcting the body's Energy system. The Pankaj Method® uses energy tools and techniques, and diagnostic protocols to correctly diagnose the real causes of pain/distress, especially those of 'incurable' conditions. It must be stated at the outset that The Pankaj Method® is well established as a method of healing emotional and mental distress like Depression, Anxiety, Low Confidence, Fears, Grief etc. for whom there are no curative medicines.The Pankaj Method® does not suppress your anger or stress, it eliminates them quickly, easily and permanently. Reducing and eliminating pain from your life increases your Energy, Health and Happiness!
The Pankaj Method® does not use medicines or equipment and is quick, gentle, effective and safe. What sets The Pankaj Method® apart from other healing systems is that it incorporates accurate, scientific diagnosis to first determine the real cause of your pain/disease/condition and then Pankaj determines the best, personalised treatment for you that gives you permanent relief. Some of the diagnostic tools used in The Pankaj Method® are ancient and some are modern. So are the healing techniques used.
There is no other system or healer who can not only heal pain but also prevent pain. Life does not have to be painful, stressful or scary.
For the last 21 years Pankaj has been routinely healing 'incurable' conditions with The Pankaj Method®, sometimes in just one or two sessions.
The Pankaj Method® has shown proven effectiveness for incurable physical, mental and emotional problems
Mental/Emotions Issues
Anger/Short temper
Anxiety
Bipolar disorder
Confidence issues
Depression
Eating disorders
Fear
Frustration
Grief
Guilt
Mental dullness
Low self esteem
Nerve issues
Nightmares
Panic attacks
Phobias
Restlessness
Stress/Tension
Trauma and PTSD
And more..
Physical Ailments
Blocked senses
Blurred vision
Body aches

Back pain
Neck pain
Knee pain
Joint pain

Celiac
Chronic Migraines/ Headaches
Cervical pain
Genetic disorders
Muscle injuries
Sinusitis
Stomach aches
Weight issues
Ulcers
Incurable Pains
And more…
Chronic Conditions
Addictions
Allergies
ALS/MND/Lou Gehrig's
Asthma
Arthritis
Autoimmune Diseases

Graves
Hashimotos
Lupus
Psoriasis
Thyroidism

Bell's palsy
Blood pressure issues
Cerebral Palsy
Crohn's disease
Fibromyalgia
Hormonal problems
IBS
Insomnia
And more
Who uses The Pankaj Method®?
The Pankaj Method® is well-established, having been used for over 20 years, in 40 countries around the world by working professionals, celebrities, athletes, tycoons, mothers, senior citizens, and students. Many medical doctors and therapists use it too.
How can I benefit from The Pankaj Method®?
You can get quick and permanent relief from your pains, diseases and incurable conditions with The Pankaj Method
®
. Write to
help@thepankajmethod.com
and tell us about your issues and we will reply with the best way to start your treatment.
Can I learn The Pankaj Method® to help myself?
Yes! The Pankaj Method® is a very comprehensive system that can heal even serious incurable conditions. Anyone can learn the basics of this system to start healing themselves, often profoundly. The more you wish to learn the more Pankaj will teach you.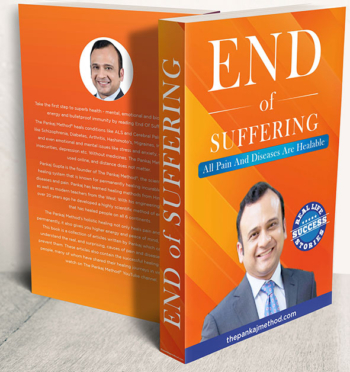 Download A Free Book
End of Suffering - by Pankaj Gupta
Learn about healing incurable pain, diseases and conditions without medicines